Power up! Party down with Belkin boost charge pro exclusively available at our online store.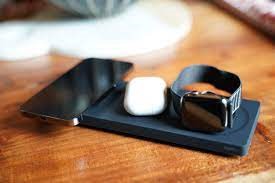 Our lives have become simpler thanks to technology. Both mobile phones and their chargers play a crucial role. Chargers are crucial because, without them, your phone would be dead and useless. Mobile phones need to be charged. Chargers are readily available accessories, but since they require electricity, the risk of an electrical failure increases. But thanks to wireless chargers, charging is now much safer in our modern day.
Although it has been around for a while, wireless charging has only just begun to gain popularity. The wireless charging standard has been adopted by an increasing number of manufacturers, and it is now present in almost all smartphones. People worry more about phone batteries these days. People hope that a 10-minute charge on their phone will be sufficient for their lengthy trips. When you need to recharge your phone, all you have to do is lay it on the wireless charger rather than being restricted by USB power converters, micro-USB cables, or lightning cables. The manufacturing, automotive, and healthcare industries are among the many fields where wireless charging is gaining ground. Ilovemyphone offers a variety of wireless chargers to make you move in a dynamic environment.
1. It is made with convenience in mind and features a striking contemporary design.
2. Whether your iPhone series smartphone is in portrait or landscape orientation, this incredibly practical solution provides the fastest charge of up to 15W.
3. Place your phone on the charging station and use MagSafe technology to start charging.
4. The speed of a wireless charging pad has been optimised.
5. The architecturally inspired design works beautifully in any setting, from the living room to the office.
6. Your mobile gadgets can wirelessly charge steadily and quickly with this gadget.
Conclusion: Your cell phone charger can be quite useful to both you and your phone. You can avoid the annoyance of missing out on life, especially if a special event arises and you won't know about it because your phone is dead, or worse, you can be saved when you are entangled in a bad scenario, by investing a small amount to purchase yourself a charger.
---
Leave a comment